Jump into Lake Minnetonka to wake you up on New Year's Day! Great Annual Tradition with major bragging rights and contribution to a wonderful charities!
The ALARC Ice Dive is in its new permanent home at the Port of Excelsior in downtown Excelsior at 400 Lake Street across from Haskels. Registration will be done at the Dock Theater, 26 Water Street, just up the street from the dive site. Once registered, the divers will be moved to the warm tent through the Port of Excelsior Archway for changing clothes and being staged for the dive. Divers will then be led to the dive hole for the traditional jump into Lake Minnetonka. Spectators will be able to watch the divers from a designated dock. Once the dive is completed, divers can change again in the tent, and head for Dunn Brothers Coffee for hot coffee and our famous breakfast burrito. It will be a special Ice Dive to remember.

Costume Contest
The ALARC Ice Dive will be giving away two $50 Gift Certificates, one each for the top two costumes worn by the divers as they jump into the comfort of Lake Minnetonka. The costumes will be judged by the ALARC staff. Judging criteria will be based on creativity and attention grabbing. Ice Dive spectators will be encouraged to voice their opinion also.

Ice Dive T-Shirt
The T-shirt created for the 2018 ALARC Ice Dive will be a new design as seen below. Order yours today to insure being able to pick it up on January 1st.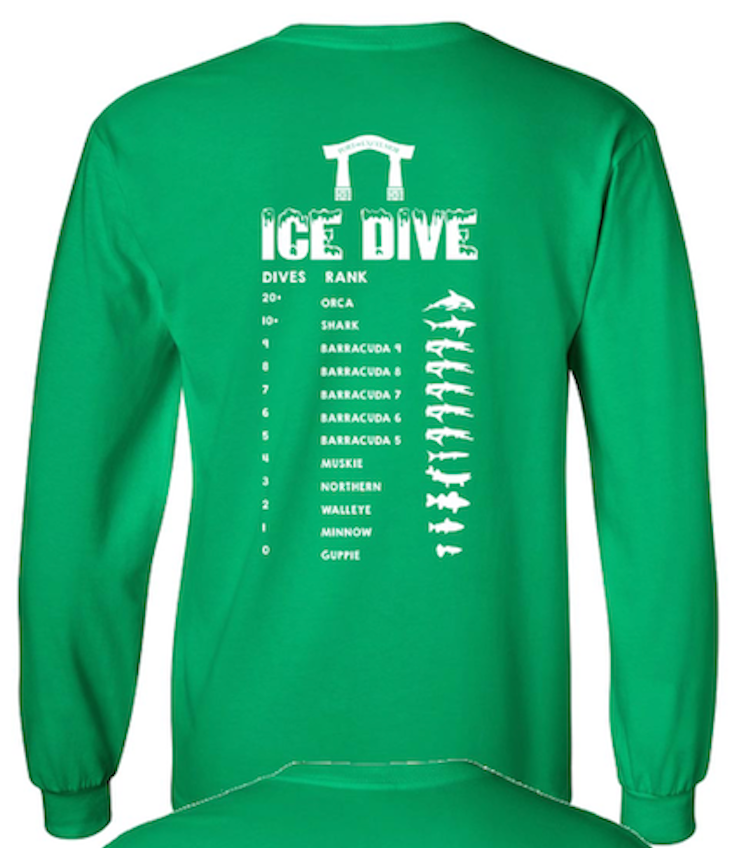 Ice Dive Cap
Enjoy the warmth and remembrance of the official ALARC Ice Dive Stocking Cap. Black caps are for divers with 1-14 jumps, red for 15-20, and gold for 20 or more jumps.




Shark and Orca Robes
If you are a Barracuda 9, and you intend to dive on January 1, 2018, to become a Shark, you may be interested in purchasing a beautiful black ALARC Ice Dive Shark Robe. Or if you have completed 19 dives, you are eligible for a most coveted maroon Orca robe. Please use the "Contact Event" button above for more information.

Arrival Times
If you are a Shark or Orca, you should arrive between 7:30 and 8:15 am in time to be ready for the 8:30 am start of the ALARC Ice Dive. If you have 5-15 previous dives, you should be ready to jump between 8:40 am and 9:00 am. Divers with less than five dives, and all new divers should plan to arrive around 9:00 am.

Breakfast
Hot coffee and our famous breakfast burrito will be served at Dunn Brothers Coffee, 26 Water Street, when the dive is complete.
Then join us for one of the best brews in town at Excelsior Brewing Company with live music starting at 11:00. Purchase your own ALARC Ice Dive/Excelsior Brewing Company beer glass for $5.00, a great momento of the event.